- - - - - -

"My sheep listen to my voice; I know them, and they follow me. John 10:27"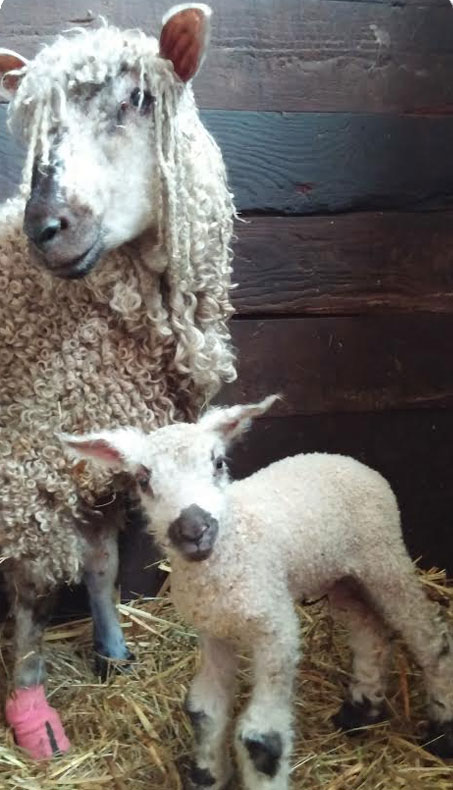 About Teeswater Sheep
(Our Favorite Breed)
The Teeswater sheep were first introduced in 1804. Since the 1950's Teeswaters were bred to have the characteristics of the chocolate Brown or black spots on there eyes ears and nose. This is one feature I find so striking on my sheep. And it sets them apart from all the other Longwool breeds.
These lovely sheep are long and tall, with striking appearance from their curly long luster locks that hang individually. (These type of locks are more noticed on the higher % teeswaters). The head is off white or gray with dark markings around the nose and ears. They are a hardy breed that can produce medium size lambs up to 10 - 12 years. There wool is in demand with hand spinners for making wool products. Teeswater wool take well to dyes allowing you to create a more vibrant color. You can see this on my
Wool For Sale
page. The wool staple length 20 - 30cm, Fleece weight 4 - 6kg, Quality 32s - 36s. The Rare Breeds Survival Trust is working hard to conserve and protect this UK rare native breed.
Some farmers called these lambs with the marking "mug tops".
The Wensleydales came from Teeswaters and here is an interesting fact: In 1838 a Dishley Leicester ram and a Teeswater ewe were mated and lambed the first Wensleydale sire named "Blue Cap". For more information on the Wensleydales -
click here
Links to more information on the Teeswater:
"We passed the river Tees in a fruitful country which produces very large sheep."
Thoresby, 1703